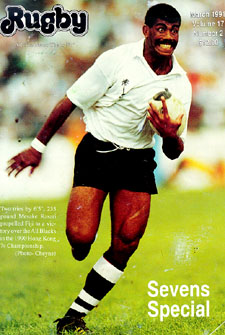 Acknowledgements
As usual in a work like this, there are many people to acknowledge. Firstly, Ed Hagerty for suggesting this work to me and supporting me throughout the period in which I've worked on it. Randy Liebermann and Scott Jones provided a lot of research assistance in the early part of the project.
Terry Lee managed to bring Rugby into both the 1980s and 1990s simultaneously during the preparation of this issue.
Thanks to the many people that responded to my pleas for historical information about sevens, both in the US and throughout the world, and a special thanks to all those that submitted to interviews and proofread text for content and form; I hope I've represented their views accurately.
Thanks to John Ryan of Newport, later to be coach of Wales, whose description of sevens (two handwritten pages in early 1977) was to be my first expert information on the subject and a guide for all early practices. His "20 passes to score" drill remains a favorite.
Thanks to Dana Bateman and Aileen Killen, who later in 1977 brought me a souvenir from a trip abroad: Rugby Sevens, by Mike Williams. Within a year, not only was the book dog-eared, chewed up, and devoured from cover to cover, but the information therein contributed greatly to Bethlehem's victory at the 1978 Ontario Sevens; we are still one of only two American teams to win the tournament in its 40-year history.
Thanks to Keith Seaber for inviting me to coach the Cougars at the 1986 Melrose Sevens. It was my first exposure to first-class sevens and remains one of the most significant experiences of my rugby life.
For their loving indulgence, I thank the members of my immediate family -- Heide, Carmita, Heidi, Steve, and Rik -- all of whom tolerated my obsession with this work. Additional thanks to 12-year old computer master Rik Signes, who generated all the figures.
I would especially like to thank what actually made this work worth undertaking: the game of rugby sevens and the people that play it.
Games:
I have singled out a number of specific games to dedicate to print: games that for me, whether as winning coach, losing coach, or spectator, have represented the enjoyment, the wonder, the magic of sevens. In reverse chronological order, they are:

06/90:  USA                 24   Argentina         6   (Sicily)
04/90:  Randwick            16   Melrose          15   (Melrose)
04/90:  Fiji                22   New Zealand      10   (Hong Kong)
02/90:  Atlantis            16   Auckland Suburbs 10   (Taupiri)
06/89:  MIT                 12   Xavier Old Boys   6   (Rockaway)
03/89:  USA                 15   Wales            12   (Sydney)
04/88:  American Eagles     20   Canada           12   (Hong Kong)
11/87:  East B              12   East A           10   (Tucson)
08/87:  Bethlehem           20   Duck Brothers    16   (Norfolk)
04/87:  New Zealand         14   USA               4   (Sydney)
07/86:  Maryland Stingers   14   Florida State     4   (Cape Fear)
04/86:  Racing Club/France  18   Cougars          10   (Melrose)
12/85:  East                21   Pacific           4   (Orlando)
07/85:  Duck Brothers       20   Black Swan       16   (Cape Fear)
06/83:  Maulie Maguires     28   Philadelphia     12   (Bethlehem)
06/82:  Bethlehem Hooligans 26   Duck Brothers    22   (Hartford)
07/78:  Bethlehem Hooligans 22   Irish Canadians   8   (Ontario)

Players:
Last, but most certainly not least, thanks to a few special players, whose insights into the game have helped me understand it better and become a better coach. These include, among others too numerous to mention,
George Yasso; Charlie and Jimmy Wilkinson; Tommy Smith; Will Brewington; Dave Poquette; Terrence Titus; Gary Lambert; Steve Finkel; Salty Thompson.
---


Copyright 1999-2023